Screwdriver Set, 27-pieces - Medium
$275.00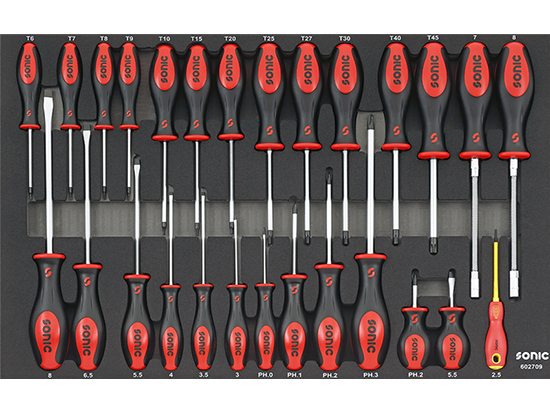 This Sonic 27-piece Set includes Screwdrivers with ergonomic tri-lobe plastic handles and a rubber overmold for comfort and grip. Chrome Vanadium shafts ensure duarability for years of use, and a hardened magnetic tip offers maximum gripping power.
This set includes Phillips 0, 1, 2, and 3; Slotted 3, 3.5, 4, 5.5, 6.5, and 8mm; Stubby #2 Phillips and 5.5mm Slotted; and 2.5mm VDE (insulated from electric) Slotted screwdriver.
In addition to the screwdrivers, this set includes 11 Torx drivers from T6 to T40, as well as 7mm and 8mm Flexible Nut Drivers.


Features
Tool sizes screen printed in foam.
CNC machined and chemical resistant.
Lifetime Warranty.
Other Sonic Tools Products