ALU Pull Kit AK 98
USD $5,489.00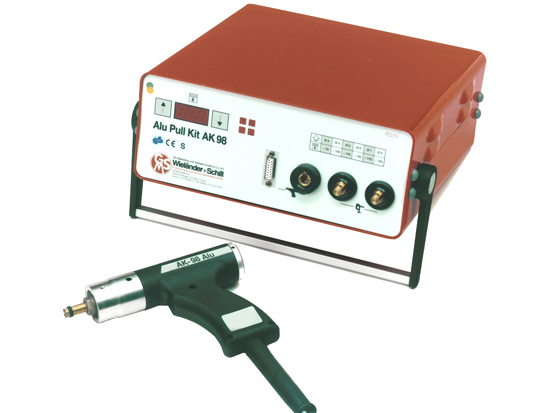 Dent-pulling technology for Aluminum panels Many aluminum parts of the car body can now be saved by using the AK 98. The innovative stud-welding technology combined with an automatic pistol is now revolutionizing the dent-repairing of aluminum panels. Technology and innovation for the up-to-date car body repair. The AK 98 is a completely micro-processor controlled unit. The precise digital display showing the charging voltage allows for the exact adjustment of all parameters when using stud welding with capacitor-discharge technology and peak-ignition. This means cool stud welding with no distortion. The aluminum panel is fully protected from heat. There will be no burnt patches on the inside of the panels. The dent-removal kit AK 98 can be used on the aluminum panels of:
Modern cars
Body repair of trucks
Bus-paneling
Caravans
Container-building
Campers
Features
The AK98 can be used for the repair of aluminum panels which have minor dings and dents, longitudinal scratches and hail damage.
All bodywork repairs using the AK 98 can be done from the outside. Therefore, no more pushing from the inside and no more removing of the inside trimming or air bags.
Dent removing with the AK 98 is very simple to master. The new technology saves time and helps to reduce repair costs.
Accessories
Other Reliable Automotive Products