Service reminder printer, stand-alone unit with keyboard and GoDex printer kit
$579.00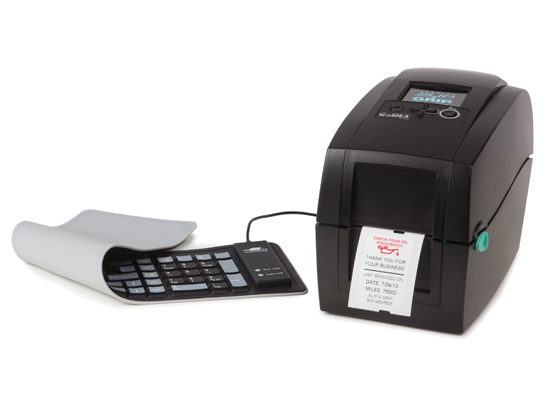 Our convenient, easy-to-use service reminder label system ensures a professional image and helps promote repeat business. Its intuitive controls and LCD operation panel makes it easy to operate. Includes a tough, flexible keyboard and can automatically calculate mileage return intervals. Can be pre-programmed with your company name and phone number. This stand-alone unit plugs directly into a standard wall outlet and works right out of the box.


Features
Preprogrammed with 24 industry standard messages.
Stand-alone unit plugs into a standard wall outlet.
We will program the printer with the shop name and phone that will print on each label.
Customizable with your branding.
Tough, flexible keyboard included.
Can automatically calculate mileage and return intervals.
Options
| | | | |
| --- | --- | --- | --- |
| 544-FB-P9944-02B | Service Reminder Printer Replacement Ribbon | $10.00 | Add to cart |
| 544-FK-P9944-03 | Includes: 4 rolls of generic imaged labels, red oil can, part # FB-P9933-45, 500/roll and 2 printer ribbons, FB-P9944-02 | $77.00 | Add to cart |
Accessories
| | | | |
| --- | --- | --- | --- |
| 544-FB-GXPPP-01 | Custom Programming | $83.00 | Add to cart |
| 544-SRLPET0000-01W | White Static Cling Custom Labels - 12 roll minimum order required | $53.00 | Add to cart |
| 544-SRLPET0000-03W | Clear Static Cling Custom Labels - 12 roll minimum order required | $58.00 | Add to cart |
Other Petoskey Plastics Products